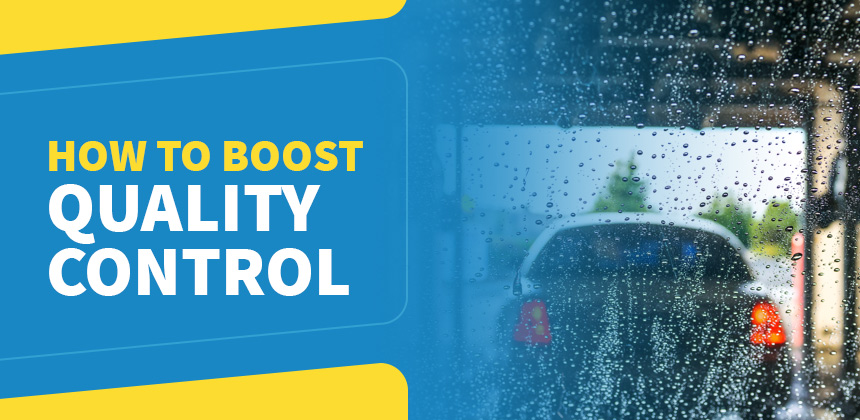 How to Boost Quality Control
Any company or organization must recognize the significance and value of quality control. Identifying solutions to eliminate labor, reduce operating costs and improve customer satisfaction are a few ways quality control can benefit your company. These elements can also help you update your existing processes to become more effective and productive. Additionally, you should always keep consumers top of mind to secure customer care and focus.
Quality control is critical for any business that seeks to implement superior service, safety and satisfaction. If you seek to upgrade various aspects of your business' efficiency, consider applying these best practices.
Contact Us For Your Car Wash Supply Needs
What Is Quality Control?
Quality control is the management and maintenance of operational, service and product quality. This technique applies to almost any industry or organization by assuring the fulfillment of all requirements and establishing measures to check for excellence. Businesses should perform consistent inspections to assess their continued ability to deliver outstanding experiences. These checks are also crucial for controlling process variation and measuring quality. For example, if a business provides a product, they should regularly test it to determine if it is within the specification requirements.
Monitoring products or services can also identify problems, so customers do not receive damaged or deficient products. During the manufacturing process, quality control allows businesses to correct any issues and inspect their products for any concerns that might affect public health or safety.
Quality control may look somewhat different for every business and industry. However, this process commonly consists of measuring products' value and confirming that they meet specific standards. These evaluations equip companies to minimize errors and improve their overall workflow. Quality control procedures can also help promote consistency in production and prevent liability issues.
Why Quality Control Matters
Quality control is an essential foundation for any successful business. Professionals who value their customers' needs should work to provide the best possible services or products in their industry. For instance, a snack food manufacturer must test their products for safety to ensure buyers can purchase confidently.
Vehicle manufacturers must ensure quality control, so drivers feel safe on their daily commute. Thoroughly inspecting all parts, including the engine and brakes, will certify that they operate effectively.
For companies that execute many different processes throughout their manufacturing routine, quality control is necessary to provide evidence of any necessary upgrades. If products do not meet standards or comply with requirements, it can affect consumer demand. Without implementing quality control, products and services may fall short of expectations and disappoint or endanger consumers. Establishing a comprehensive quality control system can improve accountability and maintain a business' reputation and reliability.
Manufacturers that implement comprehensive quality control processes should also advertise these rigorous standards to ensure consumers feel more confident in the products they purchase.
Essential Tips to Improve Your Car Wash's Bottom Line
Ensuring quality control has many benefits for your car wash business. It's vital to consider the various ways to enhance your business, heighten customer experience and promote your car wash services. Reducing expenses and increasing revenue are the keys to unlocking success. Here are some additional essential tips to improve your automated car wash's bottom line.
Stay Proactive
Staying on top of proactive measures can help prevent drastic quality or safety concerns before they arise. Implement a rigorous training program and ensure all team members complete it. Regularly have employees run tests to ensure they understand their role in ensuring a positive customer experience. Equip managers to communicate and delegate tasks effectively and know how to handle quality control issues.
All employees should meet or exceed expectations, and managers should step in to rectify any issues in these situations. These essential leadership skills can help identify malfunctions or deficiencies before they become a costly problem. Being proactive in any business can also limit unscheduled repairs, which lead to increased costs. It can be helpful to regularly review maintenance programs and training procedures to ensure equipment longevity.
It may also be wise to keep an inventory of spare parts for any essential machinery or equipment in your car wash. Preparing for possible failures can reduce product delays and prevent worn-out parts from causing injury. Staying proactive can also include maintaining scheduled maintenance, going above and beyond, ensuring wash quality and managing other issues. All these quality control processes can improve customer service and help your business stay competitive.
Implement Proper Processes
Quality control is challenging to manage without specific processes. Ensure the most critical functions are in place to keep your car wash running smoothly and efficiently. Your car wash's quality is imperative to customer satisfaction, so it is worth assessing how you can exceed expectations. Your car wash should deliver consistent optimal performance to keep customers happy and help you maintain a financial advantage. Implementing proper processes also includes staying up to date with the latest equipment, detergent and materials.
However, correct maintenance of your car wash can reduce the need for equipment updates. It is also essential to consider the various vehicles that come through your car wash. Vehicles have many different sizes and shapes, so think about the car wash brush, motion and angles to verify every car receives the best cleaning results. Elevate this process by implementing different variations or additional components to your car or truck wash that refine cleaning performance.
Many types of equipment can benefit your car wash, such as high-pressure technology. Discussing these upgrades and advancements with employees can help them feel more confident in their skills and ability to do their job. Using these techniques to maintain and improve systematic processes can also lead to more effective operations and quality control.
Market Your Business
There are many different ways you can use marketing to bring new drivers to your car wash. Advertising your car wash's attributes can be the deciding factor in customers choosing your business instead of a competitor. Consider these beneficial marketing opportunities to showcase quality control for your car wash.
Social media: A social media presence is crucial for any business these days. Promoting your car wash on Facebook, Twitter, Instagram or other social media apps can improve visibility.
Community involvement: Consider working with a school, organization or charity to promote your services. Contributing donations from your car wash to a worthy cause can bring in more business.
Update advertisements: Align your promotions and specials with customer needs. Provide various offers and options for customers with different car wash needs.
Text and email offers: Digitally sending offers and special discounts can increase your presence even more, reaching a wider audience.
Using one or more of these methods can improve your ability to communicate with customers and showcase the benefits of your business. Marketing is an endless opportunity that allows you to present your latest updates, quality control and equipment advancements to existing and potential customers. Making the best of your marketing and advertising strategy can also assure your competitive position.
Improve Customer Loyalty
Staying aware of comments and feedback can increase the consistency of sales and improve customer loyalty. Dependability is a critical factor for any business aiming to ensure a steady stream of returning customers. Loyal customers might also be more likely to recommend your car wash to others looking for value, price and quality.
Establishing a program that provides incentives is an excellent way to get return business. Think about what benefits your customers want to see after consistently using your car wash services. The loyalty program could include discounts or coupons for frequent washes, free washes, additional services and other advantages for repeating customers. You can simultaneously implement customer satisfaction surveys, comments and feedback options.
This technique may help address customer issues or concerns with quality or service experiences, which will only assist you in improving these processes. Customer feedback lets you hear consistent positive or negative comments that allow you to adjust your level of quality and customer service accordingly. Another potential benefit of customer reviews is to better analyze your customer expectations and become aware of any maintenance issues you may not have even noticed.
Reduce Overall Costs
Reducing overall costs is an obvious benefit for any industry. To establish cost-effective solutions in your car wash, work with your suppliers to see where you can make modifications. It may also be a smart strategy to consult with any other professionals who assist you in managing your car wash, such as your accountant or distributor. Reducing overall expenses also includes executing the most efficient practices that generate business and diminish costs. Some examples of this can include:
Determine the best detergent.
Provide the best products and services.
Look for opportunities to save water and other resources.
Identify necessary equipment upgrades or enhancements.
Maintain cleanliness to avoid error and injury.
Delegate processes that reduce risk and improve quality control.
Recognizing any opportunities to add function while increasing customer satisfaction is another advantage. For more significant cost savings, you may wish to consider introducing automated services that reduce the need for physical labor. You might also want to assess whether self-service car wash stations would better suit your customers. Finding ways to install technology for smaller tasks instead of using staff members can help decrease human labor costs.
However, when using this method, you must also examine if the automated services will decrease quality or customer satisfaction. Additionally, the cost of repairing or replacing the equipment should be less than paying manual labor.

The Benefits of Boosting Quality Control
Why should you boost quality control? Applying quality control processes in your business can promote trust in customers who rely on your products and services. Quality control can also encourage employees to exceed expectations and go above and beyond for customer satisfaction. Businesses that execute these processes may see long-term benefits, such as enhanced reputation and community standing. Essentially, no company wants its products or services to be unreliable or defective, and quality controls work to limit those issues.
 Additional quality control benefits can include the following.
Lower inspection costs: Consistent quality control to ensure fewer errors can reduce inspection costs and prevent you from going over budget. 

Better use of resources: Improving efficiency in all areas of your business will maximize your resources while reducing waste. 

Strengthen customer satisfaction: When employees provide specialty products and services, customers will be happier with their experience. 

Improved techniques and methods: Upgrading your equipment and manufacturing process to provide the best possible service can increase productivity and efficiency. 

Incite quality consciousness: Emphasizing the importance of quality control will encourage employees to regularly monitor excellence and follow procedures. 

Raise morale: Working toward a universal goal can boost employees' confidence in the quality of their services or products when they know their expectations. 
Boosting your quality control is a powerful tool to give you the guidance you need to steer your business in the right direction. This process can help you feel satisfied with what you are offering and highlight ways to drive profits. For each service or product you provide, your consumers should expect consistent, high quality. Customers should also feel assured that they are getting the value they deserve.
While rigorous testing and meeting industry standards may seem challenging, it is worthwhile to determine the best features and areas of needed development.
Choosing JBS Industries
JBS Industries understands the importance of quality control for your business. We are an international car wash supply manufacturer servicing locations worldwide. We pledge to provide you with high-quality industrial cleaners for your car wash. We have been a trusted car wash supplies manufacturer for decades, bringing you the cleaning solutions and products you need to keep your business successful. Our essential principles of quality, innovation, value and service lead us to administer excellence in multiple industries.
We also extend further convenience for your business with our bulk purchasing and affordable, helpful supplies. Like so many other industries over the years, JBS Industries has adapted to the newest practices. We are proud to offer modern products that produce an impressive clean and less impact on the environment. Our supplies can assist you no matter what type of automatic car wash service you run. Additionally, we can help maintain the value you and your customers deserve.
Choosing JBS Industries is the first step in helping you see the results and performance you desire for your automated car wash. We are confident in our soaps and cleaning products that will only improve your business' reliability and ambition while exceeding requirements and expectations.
Learn More About Us Today
JBS Industries has been creating high-quality cleaning products since 1979. Today, we are ready to provide you with excellent customer service and highly effective, concentrated products. JBS Industries recognizes the significance of value and quality for your potential customers. We can offer you top-performing cleaning solutions that will satisfy your customers and encourage them to return to your automatic, friction or touchless carwash.
We also carry a wide range of detailing and specialty products and protectants to maximize our services. View our product catalog to see which beneficial features you can purchase. Visit our website to fill out your order form today. We also welcome you to contact us if you have any questions or want additional information about our offers and services.