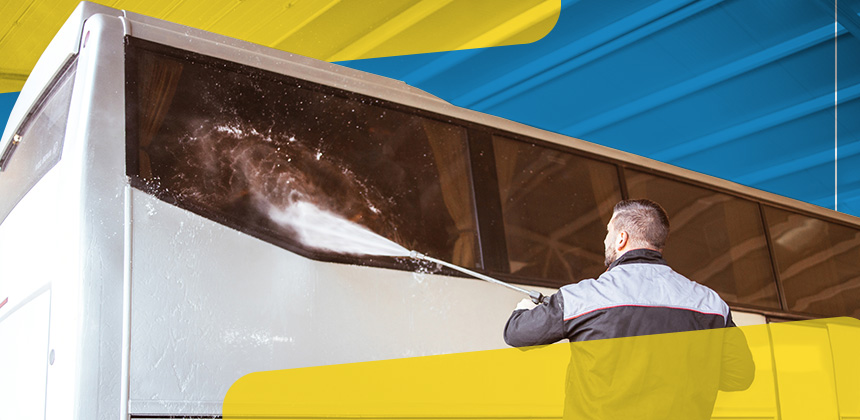 The Importance of Transit Cleaning
Regular cleaning is key to maintaining any transit business. Washing their fleet and facilities is important if these companies want to keep both passengers and employees happy.
Learn more about the value of transit cleaning and some helpful tips and tricks to make washing these fleets more manageable.
Why Transit Cleaning Is Important
Every transit business, including the following, can benefit from regular cleaning practices:
Car rentals
Automobile dealerships
City buses
Freight and trucking
School buses
Explore some of the key reasons why a company's cleaning efforts are critical to its success and the success of the people who keep it running.
Passenger Health
Maintaining cleanliness within a business has never been more highly valued by transit passengers. People want to feel confident that someone regularly disinfects surfaces and cleans seats as they board one of these vehicles.
Whether the business is involved in metro transit or car rentals, keeping vehicles clean inside and out will help improve attitudes towards their services. All passengers want and deserve a hygienic ride. Ignoring regular cleaning efforts will impact a customer's perception of a business and their willingness to recommend the company's services to a friend.
Employee Health and Attitudes
Employee turnover can be detrimental to a business. Maintaining happy and healthy workers is crucial to keeping any transit company functioning at its best — no one wants to work in an unclean environment.
Prioritizing regular cleaning is a valuable way to be considerate of the people who give life to a transit business. It can improve attitudes toward work and help keep them healthy and able to show up for duties.
Cleaning transit systems is a very important step in fighting nationwide labor shortages that have interfered with city transportation systems over the past few years.
Improving Appearances
In addition to keeping all passengers and employees happy, regular transit cleaning is essential for maintaining the appearance of transit vehicles. Businesses should also keep stations or transit facilities well cleaned.
City transit cleaning, for example, is especially valuable because buses are moving advertisements for the business. If they appear dirty and unkempt, people will take notice and may opt for another method of transportation.
Cleaning is an easy way to improve the impression of the services offered and ultimately enhance a transit business.
Maintaining Business
Another reason transit cleaning is necessary is the success of an operation depends on good customer experiences. To maintain a business like this, managers must pay close attention to how their passengers feel when riding with their company. About 76% of consumers explore online before physically visiting a business. If there are reviews about the vehicles not being adequately cleaned, new passengers may choose to forgo car rental or transit services.
6 Tips for Transit Cleaning
Here are a few easy tips and suggestions for effective transit cleaning to keep employees and passengers happy and healthy:
1. Create a Daily Checklists
When it comes to transit cleaning, businesses can benefit from having a specific checklist for employees to review daily. This to-do list may include sanitizing the following:
Hard surfaces
Seat belts
Steering wheel
Handrails
Door handles
Switches and controls
Cup holders
Window ledges
If the vehicle has a bathroom, businesses should be sure to get rid of trash and fill up hand sanitizer stations daily. They should also consider sanitizing:
Toilets
Sinks
Mirrors
Dispensers
Door handles
For car rental cleaning, sanitizing the vehicle's interior for every passenger may be beneficial.
2. Create a Weekly Checklist
In addition to a daily checklist, a transit cleaning routine should also consist of a weekly to-do.
After long working hours, the exterior of both rental cars and buses can accumulate dirt and road film. Washing the fleet every week can help maintain their appearances and keep them shining.
While tending to the interiors of a fleet, those cleaning should be sure to vacuum and disinfect any carpeting. The company should also have all the crevices in the seats deep cleaned and sanitized weekly.
3. Clean From Top to Bottom
A good rule for transit cleaning is working from top to bottom for the fleet's interiors. Following this method will help teams get the best clean.
When working from top to bottom, the dirt and debris may fall down as staffers tend to your seats and surfaces. After wiping everything down and vacuuming, they can move onto the floor and effectively get rid of the unwanted dirt and grime that made its way to the ground during the cleaning process.
4. Utilize the Right Chemical Concentration
It is essential to find the right cleaning agent. Picking a chemical that is too strong can compromise the material you are trying to clean, and choosing one that is too weak can be ineffective.
Transit businesses also need to ensure they follow the proper use of disinfectants and the guidelines from the Centers for Disease Control and Prevention for cleaning their facility and vehicles.
5. Encourage Hygienic Practices
Another helpful tip for transit cleaning is encouraging all employees and passengers to abide by hygienic practices. Providing convenient waste receptacles and hand sanitizer stations can be very beneficial.
Companies can encourage good hygiene further by maintaining clean vehicle washing stations using JBS Bay and Wall Cleaner (ST-275). Just like a person wouldn't want to wash off in a filthy shower, keeping a sanitary space for washing a fleet helps achieve the best clean possible.
6. Buy Cleaning Supplies in Bulk
Businesses can benefit from buying their supplies in bulk. By choosing to stock up on the chemicals it needs for washing its vehicles and cleaning upholstery, your company can enjoy many advantages like:
Being prepared for a cleanup
Saving money
Saving time
Being more environmentally conscious
Easier budgeting
JBS Carpet Shampoo (ST-175) can effectively clean carpet and upholstery. When washing vehicle exteriors, Red Storm F/B (PR-160) is a power presoak that can streamline cleaning action. Having products like these on hand will help you tackle large fleets in no time.
Just be sure to keep all cleaning supplies stored in a cool, dry place away from HVAC vents and safely secured.
Explore Transit Cleaners From JBS Industries
With more than four decades of experience, JBS Industries understands the importance of highly concentrated cleaning products. If your car wash business washes a commercial fleet, having the right cleaners is crucial for keeping your customers happy and their vehicles looking their best.
We design our transit cleaners for large-scale cleaning jobs to help you effectively and efficiently deep clean these vehicles. Whether you have one or multiple vehicles to clean, our transit cleaners make it possible to keep them shining.
Are you interested in learning more about transit cleaners from JBS Industries? Contact us today!