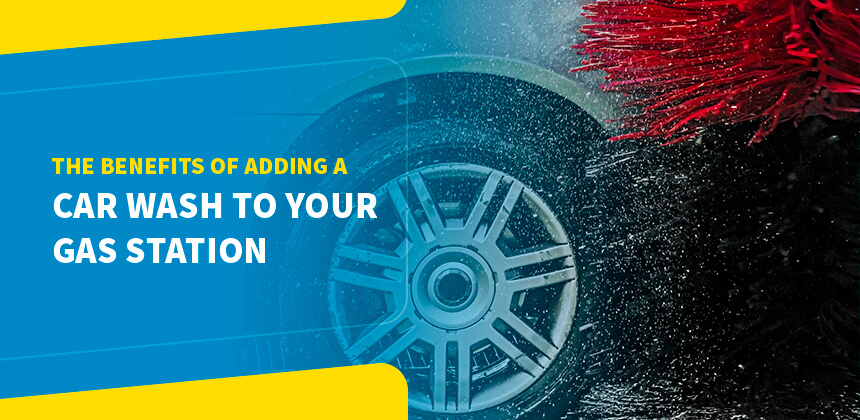 Benefits of Adding a Car Wash to Your Gas Station
Gas stations have become one-stop shops for fuel, snacks, toiletries, lottery tickets, over-the-counter medicines and more. With so many conveniences located in one place, it comes as no surprise that approximately 65% of car washes are located at gas stations.
Car washes have become increasingly popular in recent years due to growing consumer interest in vehicle maintenance. The global market size for car wash services was valued at $27.8 billion in 2020, and this rate is expected to increase by 3.8% by 2028. Studies also show that around 66% of car owners in the United States will visit a car wash one to two times per month.
With the popularity of car washes steadily expanding, it's no wonder so many gas station owners have taken advantage of these amenities by building them onto their businesses. Adding a car wash comes with many revenue and customer engagement benefits, making them a smart choice for existing gas stations.
Contact Us For Your Car Wash Supply Needs
Should I Add a Car Wash to My Gas Station?
Car washes are excellent investments, especially for gas station owners with existing facilities. If you're not sure whether you should expand your business with a car wash, there are many benefits of adding a car wash to your gas station you should keep in mind before making your decision.
Additional Income
If you're looking to make a little extra money on top of your original enterprise, a gas station car wash is a highly profitable side venture. While many factors impact revenue from car washes, it generally ranges from $41,000 annually for smaller self-serve washes to $686,250 for larger luxury facilities.
Adding a car wash to your gas station means bringing in a second stream of income. As a result, you won't have to rely entirely on your gas pumps and convenience store for money — your car wash revenue will add significantly to your profit pool.
Minimal Maintenance
While every car wash requires routine maintenance to ensure that all systems and components are in working order, your responsibilities don't extend much further from there, especially if you install a self-serve facility.
Self-serve car washes require minimal attention from business owners. When a customer uses a self-serve wash, they manually clean their vehicle's exterior themselves using the provided wand or other wash tools. You may even add a coin-operated machine that allows them to vacuum the inside of their cars. Either way, your gas station car wash will essentially run itself, leaving you to tend to the rest of your business while taking in additional revenue.
Increased Customer Base
A gas station car wash is favorable and convenient for your existing customers and something that's sure to keep them coming back to your business — perhaps even more than they did initially. In addition to retaining existing customers, adding a car wash to your gas station is also excellent for further growing your customer base.
With a car wash attached to your gas station, you can expect to attract new customers and ultimately boost customer engagement. After getting their cars cleaned at your car wash, your customers may even stop at your store for snacks or pump gas while they're there. It's a win-win for both of you!
Added Value
Car washes have become much-needed services for those looking to clean their cars quickly with minimal effort. And in a society that prioritizes multitasking, attaching a car wash to your gas station delivers even more value to your customers, allowing them to accomplish multiple tasks in one place. Not to mention, the more conveniences a gas station has, the more likely customers are to use it.
With a car wash at your gas station, customers can pump their gas, grab a snack and clean their vehicles, all in one comprehensive location. This added value will continue to boost revenue for your business.
Growing Market
As a car wash owner, the market is in your favor. In 2021, the car wash and auto detailing industry market size was estimated at $13.1 billion. This industry has been on an upward trajectory for years with no signs of slowing down any time soon.
Features like easy management, increased efficiency and improved safety are expected to drive the car wash market in the coming years. Technological advancements like touch-free washing solutions, water recycling systems and other economical innovations are also projected to boost the market even further.
This upward swing in the car wash industry makes it an excellent time to invest in a car wash for your gas station.
Brand Enhancement
Adding a car wash to your gas station can be highly beneficial to your brand image. You can use this extension to elevate your brand identity by implementing eye-catching colors, fonts and graphics that reflect your company's brand. While these elements increase brand awareness, they also enhance visual appeal, giving off a professional appearance that customers are drawn to.
When you take advantage of your car wash for additional branding, you communicate to patrons the level of quality and service they can expect from your establishment.
Loyalty Opportunities
According to studies, 75% of people favor companies that offer rewards. A car wash business provides a great opportunity to establish a rewards program for your company, helping you gain and retain customers by increasing customer loyalty.
As a gas station car wash owner, you can easily boost revenue for your business by providing customers with rewards that encourage them to spend money on multiple products or services. For example, you may offer a discounted car wash with the purchase of a food item from your gas station convenience store or reward your customers with points they can put toward their fuel purchase after using your car wash.
Higher Profit Margins
Price typically isn't a factor for consumers using gas station car washes. That's because many shoppers will choose convenience over price when making purchases. In fact, 52% of shoppers say that convenience is a key influence in at least half of their purchases, and 93% of consumers are more likely to choose a company based on convenience. That means you can enjoy higher profit margins from your car wash by reasonably elevating prices while customers enjoy the convenience of washing and fueling their vehicles in one trip.
Profitability
Car washes have proven far more profitable than their gas station counterparts. Most gas station car wash owners agree that their car wash services and convenience stores serve as their primary sources of income, not their gasoline pumps. Gas stations bring in traffic from the target market — people with cars — while car washes generate revenue.
With a car wash attached to your gas station, you can achieve higher profits than you could from your gas station alone.
Things to Consider When Adding a Car Wash to Your Gas Station
If you decide to implement a car wash into your gas station, there are various considerations you should keep in mind to generate the most success for your business. Be sure to think about the following factors when establishing your gas station car wash.
Type of Car Wash
The first step to adding a car wash to your cash station is determining what type of car wash to build. Think about which system you'll be most comfortable owning and operating and which kind of business your market will best support.
There are four primary types of car wash facilities in the United States:
Full-service car washes: In a full-service car wash, staff members clean the interiors and exteriors of customer vehicles by hand.
Self-serve car washes: Customers clean their own cars in a self-serve car wash, using tools to wash the outside.
In-bay automatic car washes: These car washes prompt customers to drive into the bay, where the automatic equipment cleans their cars' exteriors. In-bay automatic washes are particularly popular for gas stations because they require less space and labor to operate.
Exterior conveyor car washes: Exterior conveyor car washes pull cars along an automated conveyor through a tunnel where the equipment washes and dries the vehicle.
Services
After choosing the type of car wash you'd like to operate, you'll also need to determine what services you'll provide. Do you want to keep things simple with a basic wash and dry? Or would you rather offer higher-tiered services to make some extra money?
Types of car wash add-ons to consider include:
Waxing
Detailing
Coin-operated vacuums
Undercarriage washes
Wheel shines
Tire cleaning
The key to deciding which services to offer is determining which will be the most profitable for your business.
Equipment
Equipment is the most valuable part of any car wash. That's why it's vital that you choose tools and components that deliver the most high-quality clean for your customers. For example, you should ensure that your brushes don't collide with vehicle antennas or mirrors and don't leave any scratches on the body.
Another aspect of ensuring the best possible clean is properly maintaining your equipment to keep it operating at peak performance at all times. Be sure to perform all of the following maintenance techniques for your car wash equipment:
Check hoses, lines and nozzles for damage and wear.
Change burnt-out lights.
Replace filters as needed.
Verify that dry systems, brushes and vacuums are free of debris.
Empty vacuum dust bins and receptacles weekly.
Replace worn-out parts.
Clean photo eyes daily.
Drain the air compressor daily.
Ensure chains and rollers are taut and lack grease and debris.
Check detergent levels.
Pressure wash the bays.
Check the water pressure and flow.
Time
Customers will often look for car washes that can clean their clears as quickly as possible. That's why you should consider installing a car wash that will complete the job in under 10 minutes.
In-bay automatic car washes are usually the fastest means of washing a car, followed by exterior conveyor washes. Generally, automatic car washes like touchless and soft-touch washes take between three and four minutes to complete, while manual methods like self-serve and full-serve washes take over 10 minutes.
Prices
It's important to establish competitive car wash rates without undercutting your prices. Customers are usually willing to spend a little extra for the sake of convenience, so as long as your prices are reasonable, people shouldn't have a problem paying for your services.
You can use the following average car wash prices as a frame of reference when setting your rates:
Full-service wash: Full-service washes are typically more involved than automatic washes and sometimes include add-ons, costing customers between $15 and $30.
Deluxe wash: Premium or deluxe wash automatic packages provide a level of service beyond a basic wash and usually range from $10 to $20.
Basic wash: Basic drive-through washes use touchless or brush systems to wash vehicles using soap and water. This service is usually priced between $5 and $10.
Detailing: Detailing services include a comprehensive interior and exterior wash performed manually by employees. These highly involved services range from $80 to $200.
You can also provide customers with money-saving opportunities by creating a rewards program. Offering gas station discounts and points for using your car wash is an excellent way to reel in customers and increase revenue.
Location
While you can't change your gas station location, you can still optimize your car wash placement for maximum safety and convenience. Make sure you build your car wash in an area that isn't too close to the gas pumps to facilitate traffic flow and prevent collisions. Customers are more likely to choose your gas station car wash when they can navigate it with minimal difficulty and maximum comfort.
Choosing JBS Industries
If you decide to increase your customer base and boost revenue by adding a car wash to your gas station, you can get the high-quality cleaning supplies you need at JBS Industries. We've served as leaders in the car wash supply manufacturing industry for over 40 years, and we're still committed to providing superior automotive cleaning products today.
We're always working to maintain and improve upon our reputation as a top-quality product supplier. We exceed customer expectations by formulating leading-class soaps designed to deliver the best possible clean with easy rinsing and minimal environmental impact. Our densely concentrated car wash solutions exhibit high dilutions, product consistency and custom manufacturing capabilities to provide customers with the highest-quality clean at the most competitive prices.
When you do business with us, you'll experience the JBS difference. We built our company on the principles of innovation, quality, value and service. As a family-owned business, we pride ourselves on providing our customers with the highest possible value coupled with exceptional customer service every time.