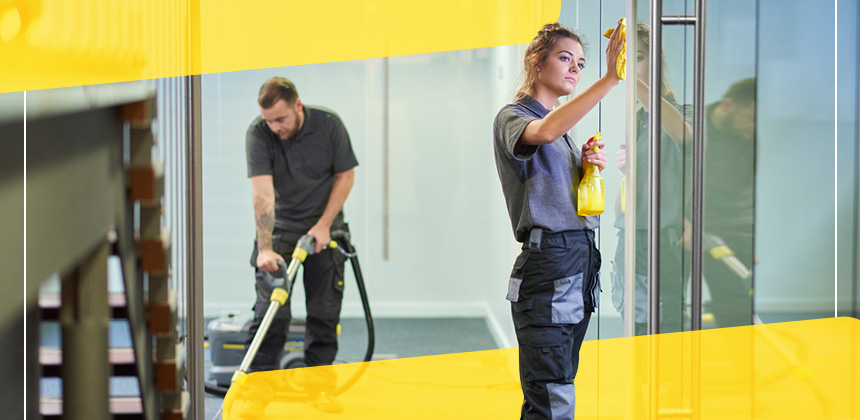 Why Industrial Cleaning Is More Important Now Than Ever Before
Whether you run a restaurant or medical center, daily cleaning tasks are a key part of maintaining any type of business. However, some facilities require more power and capacity than what regular vacuums and home cleaning products can deliver.
Tackling the toughest dirt and grime requires industrial cleaning products specifically designed for deep cleaning everything from large-scale equipment to hazardous materials.
We are breaking down the importance of industrial cleaning and why it is more critical than ever for businesses to prioritize.
8 Reasons Industrial Cleaning Is More Important Than Ever
If the past few years have taught businesses anything, it is that keeping human health and safety at the forefront of operations is essential.
The industrial cleaning industry and its products are a key part of maintaining the healthiest indoor environments possible for commercial facilities, including:
Medical facilities
Restaurants and food service
Schools
Government buildings
Office complexes
Gyms and fitness centers
Auto dealerships
Retail stores
Grocery stores
Warehouses
Explore the top reasons why investing in industrial cleaning is highly beneficial and more important than ever for businesses:
1. Reducing the Spread of Illness
Specialized industrial cleaning chemicals and tools may be effective in removing the following that contribute to the spread of illness:
Germs
Bacteria
Viruses
Dirt
Dust
Thanks to their power and potency, industrial cleaning products can help companies meet sanitizing and disinfecting guidelines outlined by the United States Centers for Disease Control and Prevention (CDC).
Addressing high-traffic areas and surfaces in your facility with industrial chemicals is necessary to keep people healthy. Adequate bathroom cleaning is also essential for stopping the spread of illness.
When you prioritize deep cleaning, you can help reduce illnesses and the number of sick days workers take.
2. Increasing Worker Productivity
No one wants to work in a cluttered and dirty space. Providing your team with a clean and tidy workspace will help you promote employee productivity.
When people are surrounded by clutter and messiness, the environment can negatively impact their attitudes and ability to concentrate. It can cause worker productivity to plummet and create unnecessary hazards in the workspace.
By using industrial cleaning products and services, businesses can provide their teams with a healthier and more organized environment that promotes focus and efficiency. Prioritizing cleanliness is key to optimizing your operation and making your employees more satisfied at work.
3. Comprehensive Cleaning Results
Regular home cleaning products do not provide the necessary results for many commercial businesses or organizations. Utilizing industrial chemicals in your facility will deliver a more comprehensive and powerful clean.
Industrial products are the best option when your company needs serious sanitization and deep cleaning. Certain types of businesses need industrial chemicals to handle their unique cleaning jobs and responsibilities, such as tending to hazardous waste or washing complicated equipment. Similarly, industrial products can help your company meet important cleaning and safety regulations.
Using powerful cleaning products will help you spend less time and energy on cleanup while getting even better results than traditional cleaners.
4. Saving Costs
By investing in industrial cleaning services and products, businesses can enjoy financial benefits. Routine deep cleaning with these powerful chemicals can help your company save costs by:
Maintaining big-ticket items: Cleaning is a great way to keep your big-ticket items looking and performing at their best.
Minimizing repairs and replacements: Industrial products can help your business deep clean its space and equipment, leading to fewer repair and replacement needs. Regular cleaning and maintenance can elongate the working life of your facility's equipment.
Reducing safety risks: With thorough cleaning of industrial products, your business can create a space that reduces safety risks and their associated costs.
5. Enhancing Safety
A facility without proper industrial cleaning processes in place can threaten safety. For example, grease or grime buildup on a floor can be a walking hazard. Dust and dirt on a piece of equipment can impact its proper functionality.
Industrial cleaning products can help your business create a safer and healthier space in the following ways:
Improving air quality in your facility.
Removing slippery or oily substances on and around equipment.
Keeping surfaces free of debris, dust and germs.
6. Protecting Your Assets and Equipment
While a clean working environment is highly important for human health and safety, maintaining a hygienic and sanitary workspace also plays a key role in protecting your business's big-ticket items, such as:
Equipment
Appliances
Computers
Monitors
Other electronics
Dust and grime buildup can damage your assets and cause them to function improperly over time. Industrial cleaning helps protect your most expensive tools and keep other items, such as carpets and furniture, in better condition.
Your company can effectively protect your investments with the proper cleaning products and routines.
7. Improving Site Appearance and Presentation
Another reason industrial cleaning is more important than ever is that consumer and employee attitudes are changing. People expect the places they shop and work in to be as sanitary and safe as possible. Part of demonstrating your commitment to providing a healthy space is ensuring your facility looks and feels clean.
Industrial cleaning is the best way to improve your business's presentation and make it look tidy and inviting.
Some industries must prioritize how their space looks to maintain their customer base and limit employee turnover. For example, restaurant cleaning and presentation are especially important to pass health inspections and cultivate customer loyalty.
8. Lessen the Load on Facility Staff
Deep cleaning a facility can be time-consuming and require a lot of energy from your workers. Providing them with standard home cleaning products only makes the process more inefficient. Opting for industrial cleaning products instead can help your staff increase their cleanup speed.
There are many perks of having industrial supplies for your team. Industrial cleaning products typically come in larger quantities, and they are designed for tackling heavy-duty applications. They are usually not pre-diluted and are harsher than cleaning products that you would use at home.
Explore Industrial Cleaning Products From JBS Industries
If your company requires regular deep cleaning, turn to the industrial solutions from JBS Industries. We have more than four decades of experience creating highly concentrated cleaning chemicals. We understand the need for powerful products that get the job done efficiently when tackling any industrial facility.
After years of development and testing, our industrial cleaning products include detergents, degreasers, cleaners and more. Our team will help you find the right options for your unique needs.
Are you interested in learning more? Contact JBS Industries or explore our industrial washes today!