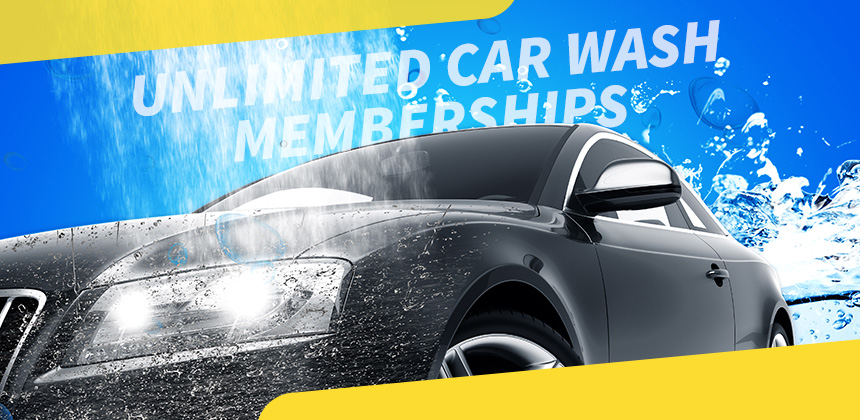 How to Price and Sell Unlimited Car Wash Memberships
Unlimited car wash memberships let customers wash their vehicles daily or several times a week at a low monthly charge. Unlimited car wash memberships usually include other exclusive perks to draw in and retain customers. A 2022 consumer survey conducted by the International Car Wash Association (ICA) showed that subscription programs are one of the fastest-growing trends in the industry, with memberships increasing by 43% as of 2019 and 88% of customers planning to renew their subscriptions.
Pricing car wash memberships may seem like a massive undertaking, but it's possible to streamline. A simple way to calculate how to price your car wash memberships is to double the price of your standard packages to get a starting estimate of your membership fees. Of course, you must also do in-depth calculations to arrive at a more precise figure. An excellent way to arrive at more precise estimates is to:
Examine your annual sales figures to determine annual expenses and the number of cars you wash yearly.
Calculate your total expenses divided by the number of cars washed to know your total cost per wash.
Once you know your total cost per wash, it becomes easier to price your unlimited car wash memberships so that you entice your customers and still generate good revenue. Arriving at this figure also sets you up to know how to sell car wash memberships effectively based on your pricing, target market and the incentives you will offer.
The Perks of Unlimited Car Wash Memberships
Unlimited car wash memberships can be the ultimate business plan because they benefit your customers and they can benefit you.
The perks for your customers include:
Unlimited car washes. Customers love value for money, especially when paired with exclusive loyalty programs or rewards.
Savings. Clients enjoy discounted rates by opting for an unlimited plan.
Convenience. It gives clients peace of mind knowing that they can wash their car at any time without the hassle of payment.
Investment. Clients view unlimited car wash memberships as a way of maintaining their vehicles — and their vehicles are a significant investment.
These types of memberships benefit your car wash because:
It is easy to implement membership plans thanks to new products in the industry that make your car wash more efficient.
An optional membership program effectively grows your client base and expands the monthly customers you bill.
You build a reputation as a client-centric car wash that values your customers by offering current services.
You get the opportunity to build a loyal client base who will potentially renew their subscriptions.
You enjoy increased revenue when your unlimited memberships are priced right!
How to Price Unlimited Car Wash Memberships
How you price your memberships will vary and depend on the size of your customer base, the standard price for a single wash, the different loyalty tiers you build and your overheads.
Because of this, there is almost certainly no exact right or wrong figure. Look at your standard packages and determine the price of your unlimited car wash membership from there.
Another clever method is doubling the price of your standard packages to get to the cost of your unlimited car wash membership/ month. If you charge $30 to handwash SUVs, unlimited membership could start at $60 per month. You can always and a few extra dollars to that price to ensure sustainability.
Some businesses need their fleet detailed regularly but not usually more than a couple times a month. An annual unlimited car wash membership for valet or detailing services can make this option valuable to your customers and still sustainable for you.
These tips are a great starting place, but you still need to crunch the numbers and work out a profitable pricing plan that covers expenses and allows for a decent profit margin. You need to know your total cost per wash by determining your annual sales figures and the number of cars you wash annually. Then, deduct your profits from your annual sales.
Divide your yearly expenses by the number of cars you wash annually to find your cost per wash. For example, say your gross sales for the year is $900,000, you washed 60,000 cars, and your profit is $250,000. Your total expenses divided by number of cars washed: $650,000 / $60,000 = $10.83.
Once you have this figure, price your membership so that the cost of a member washing their car on an unlimited plan does not exceed the revenue you would receive from their monthly subscription fee.
How to Sell Unlimited Car Wash Memberships
Now that you have a few pointers on calculating your membership fees, you can look at methods for promoting car wash memberships:
Have a great hook and a strong message. Memberships are the norm, so don't count on savings alone to convince people. You need a unique selling point that gets to the root of why they should sign up. Is your primary client base busy moms who need the convenience? Can you offer a free coffee once a week while their cars are cleaned? Or do you service many ride-sharing drivers who must keep their vehicles presentable? Can you offer them free details every quarter?
Consider different tiers you can offer. It's an effective way to customize plans and meet your client's needs. You could have a student tier, a family tier or a business tier for professional drivers. This is also a great way to include the cap on the number of washes each member can receive daily, weekly or monthly.
Have flexibility in your unlimited wash plans. You want customers to be able to choose their plan based on their preferences and budget.
Offer family plans. Plans that allow up to two additional members or up to three cars on one account offer more convenience.
Market once-off welcome perks for new signups. Examples include "Sign up and get a free valet," "Sign up and get a free car wash for a friend," or "Sign up and get a $5 coffee voucher." The incentives are endless, but make sure they match your intended market.
Some Extra Pointers for Starting an Unlimited Wash Club
Reflect on the practical aspects that go into launching an unlimited wash club:
Technology. Consider the technology you will implement for your memberships. Will you use license plate readers? Apps? RFID stickers? Each has pros and cons, and you should consider the cost of implementing any of these technologies.
Applications. Make applications easy. It's great that customers are excited to sign up but will quickly abandon that pursuit if the process isn't straightforward.
Cancellations. Make canceling the subscription easy. Maintain a professional image by being helpful even when customers cancel their subscriptions.
Policies. It is best to have clear policies in place so that your business is always compliant with industry standards and customers know exactly what their membership does and doesn't entail. Be transparent about all fees, perks and limits included in each of your unlimited wash plans.
Successful Car Wash Practices with JBS Industries
Your car wash can enjoy noticeable growth from implementing unlimited wash memberships. At JBS Industries, we partner with you to provide the highest quality car wash cleaners. We are a family-owned car wash soap manufacturer, and we take pride in seeing the car wash industry evolve through new product innovations that keep your business thriving.
You can browse our inventory of quality car wash and industrial cleaners now, or contact us to learn more today!