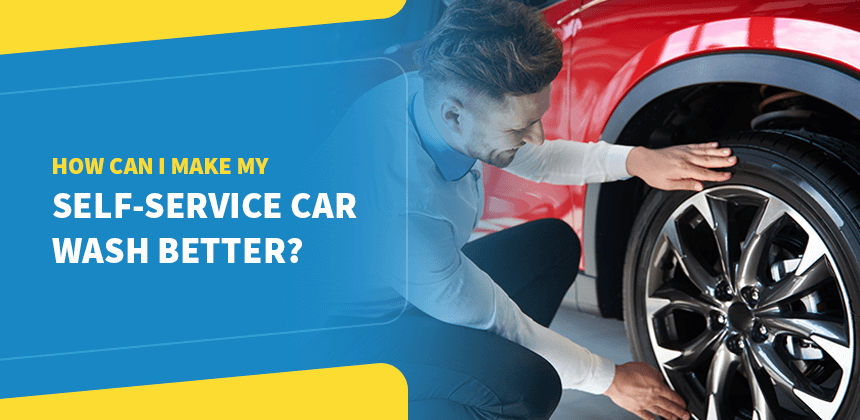 How Can I Make My Self-Service Car Wash Better?
Did you know the average two-bay self-service car wash makes about $41,000 annually? While this amount depends on the specific services you offer, there are always ways to bring in more.
Here's how you can maximize your self-service car wash business.
How to Maximize Your Self-Service Car Wash
There are so many opportunities to boost your car wash's profitability that we can't name them all in one post. Here are a few of our favorites.
1. Provide Top-Quality Equipment
The essential features of a self-service car wash include:
Pre-soak: The pre-soak breaks down dirt and grime before the soap application, making it easier to remove. The pre-soak's specific pH affects the kind of dirt it removes. If it has a high pH, it's effective for organic dirt like dead bugs and grease. A low-pH pre-soak works to break down inorganic materials like salt and sand. Offer both to provide a complete service.
High-pressure wash: The customer uses this tool to cover the equipment with a stream of automotive soap. It's more efficient than using a sponge or other handheld tool, improving the customer experience.
High-pressure rinse: Pressure washing removes dirt more effectively than spraying the car with a hose.
Drying tools: Drying blowers are fine, but they're impractical for self-service bays. Provide hand-drying tools like microfiber cloths to let customers dry their cars themselves.
To provide the best experience to your customers, make sure to follow an equipment maintenance routine for all of the above. This way, your equipment will always be in the best condition when someone uses it.
2. Improve Water Quality and Sustainability
Some car washes use unfiltered water in their self-service bays. This can cause water stains and leave customers feeling frustrated.
Car washes use a lot of water — the average commercial car wash uses approximately 9 to 15 gallons of water. While this is significantly less than the amount people use washing their cars at home, you could still save money by cleaning and then recycling the water for the next wash.
Although it can be costly upfront, investing in water conservation and filtration systems lets you recycle water from your self-service bays, making your business more sustainable and saving money in the long term.
3. Streamline the Payment Process
More Americans use cashless payment methods than ever. According to a 2022 Pew Research study, 41% of Americans said they normally don't buy anything with cash, and 44% said they only used cash for some of their purchases.
Whatever system you use, make sure it accepts multiple forms of payment, including:
Chip cards
Tap cards
Mobile payment
Digital tokens
Cash
Of course, some people still prefer to use cash. Have a money changer on site so they can pay for their wash without dealing with large bills.
4. Create an Inviting Atmosphere
Many customers find the average car wash experience boring or even unpleasant. A comforting, pleasant space makes your customers feel welcome, which inspires loyalty.
Here are some suggestions for creating an inviting space:
Fix up your exterior appearance with fresh paint, cohesive signage and adequate lighting.
Play music in the self-service bays — mixed genre stations are an easy way to appeal to many tastes.
Invest in fun decor that fits your business's theme or references the local community.
Make sure to keep your space clean. Create a cleaning schedule for your crew to keep everything up to customers' standards.
5. Set Up a Membership Program
You can increase customer loyalty by offering a membership program. The more times a customer stops by to wash their car, the more they'll save.
Charge a monthly or yearly membership fee that lets customers wash their cars as many times as they would like in that period of time. This plan adds value for the customer and creates a reliable cash flow for your business.
6. Create a Mobile App
If possible, you could develop a mobile app that integrates with your wash services. An app can improve the customer experience by letting them buy services in advance using the most convenient payment method for them.
If you have a loyalty program, you could also help customers manage their accounts and let them access perks through the app.
7. Provide Clear Instructions
One of the few inconveniences of self-service car washes is that customers unfamiliar with the equipment can have trouble using it. In the worst-case scenario, this can result in the customer misusing the equipment and damaging their vehicle.
Install signage with clear instructions and diagrams to help customers understand how to use each tool in the self-service bay. You could also install waterproof screens in the bay to play demonstration videos. If you have a mobile app, you could also let customers play them on-demand on their smartphones.
This situation also presents an opportunity to show off your crew's customer service skills. Station an employee near the self-service bay to answer questions and help new customers learn the ropes.
8. Provide Additional Services
A self-service car wash provides many opportunities to upsell to customers and maximize profitability. Encourage customers to spend more at your self-service bay with add-ons such as:
Vacuuming station: Every driver wants a clean, crumb-free interior. Install vacuum stalls for customers who would like to clean the inside of their cars.
Interior detailing: For customers who want a more in-depth interior cleaning, provide a full detailing service at a slightly higher price.
Tire service: Provide tire cleaner and wand applicators to let customers shine their tires.
Car wax: A high-quality car wax like Shine Time WX-611 Shine provides a beautiful, glossy finish and an extra layer of protection against the elements. Find one created for use in self-serve car washes to keep customers safe and ensure good results.
Consider several factors to decide which features to invest in, including your budget, customer demand and your available space. Consider running a customer poll to find out which services they would be most interested in.
Enhance Your Self-Service Car Wash With JBS Industries
Creating a pleasant, valuable experience for customers is key to bringing in more business and generating more revenue. When you provide great service, more of those customers will want to come back.
That's why you need quality chemicals like those in our Shine Time® Ceramic product line. This protectant leaves a high-shine finish your customers will love — and entices them to come back again and again.
Curious how our products can help you attract and retain more customers? Contact us today for more information about our specialized cleaning formulas!