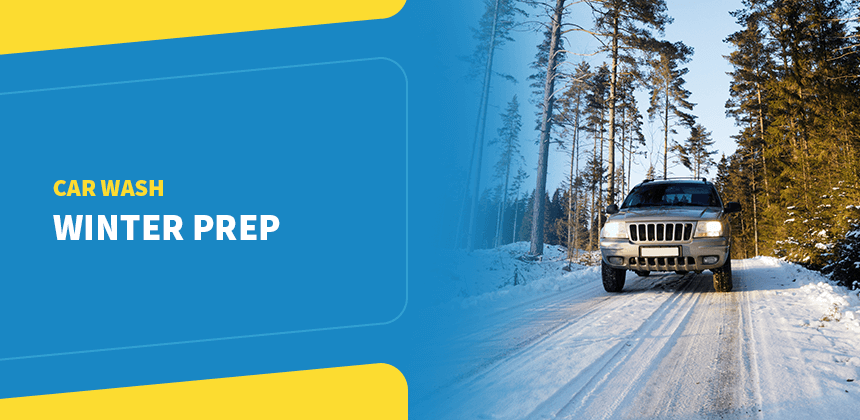 How To Prep Your Car Wash for Winter
Seasonal checks are crucial for car washes to prevent costly repairs, unexpected downtime and dissatisfied customers. Extreme weather can even close down your car wash if the bay is unheated and if employees are unprepared for winter operation.
Here's how to prep your car wash this winter so you can maintain operations even in the coldest temperatures.
Contact Us For Your Car Wash Supply Needs
Winterizing Your Car Wash
Winter can bring unique challenges that car wash operators must address before the first frost of the season. Ensure your car wash and employees are prepared for winter with these cold-weather car wash tips.
Keeping Bays and Tunnels Heated
Freezing water can cause numerous problems inside and outside the wash area. A couple of the most common heating systems to keep bays and tunnels warm are:
Boilers with in-floor heating: These systems effectively keep your equipment operational all year, so you won't have to close your doors in below-freezing temperatures. The floor heating units prevent water and cleaning agents from freezing in your hoses and wands. Your customers receive a positive and seamless car wash experience even during winter.
Infrared heating systems: These systems use the energy radiated from the tubes to directly warm object surfaces. The floors, walls and other surfaces in your car wash tunnel or bay will maintain a more stable temperature, even as the air temperature fluctuates. These systems cost less to operate and are the most effective for heating the car wash equipment.
If cold temperatures are an annual occurrence, your car wash should feature a heating system for all bays and tunnels.
Car Wash Winter Prep Checklist
Seasonal car wash system checks keep your business operational all year round. Operators must check water heaters, boilers, floor heat units and all other heating systems before the winter months. Avoid waiting until the first winter storm to start up these systems — you want to ensure all components are in excellent condition.
To ensure proper operation, make a detailed checklist of your car wash systems:
Inspect and test all water heaters and heating units.
Check fittings throughout the entire system for leaks.
Tighten loose connections as required.
Inspect and test boilers for optimum performance.
Test floor heating units. The thermostat must operate at the optimum setting.
Ensure timers are correctly set for heating systems.
Check valve functionality allows smooth opening and closing.
Ensure burners are clean and clear.
Check for proper water and air pressure.
Inspect the weep systems for correct timing to prevent freezing of equipment.
Clean nozzles of all debris and ensure they are appropriately sized for your application.
Replace worn or damaged nozzles, hoses, wands and guns.
Test heat exchangers and check tubing for scale build-up.
Ensure sturdy insulating doors are functional and free of debris.
Switch out the chemicals in car wash equipment to salt-removing chemicals.
Start the anti-ice systems on automatic car washes at the first frost of the season.
Set self-serve car wash systems to operate according to outside temperature if possible.
Components like the hoses in your self-service bays are vulnerable to cracks and leaks, especially in colder temperatures. Winter weather can also damage the car wash equipment and plumbing if steps are not taken early to prevent freezing in your car wash system. Schedule repairs and replacements as soon as you notice a problem.
Extra Check Points for Tunnel Operations
In addition to the checks performed for all car wash systems, automatic car washes may require you to check particular aspects of tunnel operations:
Inspect all motors, bearings and rotating arms.
Replace any worn or damaged parts in the arches.
Check conveyors as they may become misaligned with time.
Tighten loose chains and check rollers for regular wear.
Check for leaks in hydraulic fitting and add fluids as needed.
Inspect wrap conditions for worn or damaged material.
Set rotation to the recommended alignment and resistance.
Employee Preparation
While the U.S. Occupational Safety and Health Administration (OSHA) does not have a specific standard for winter weather operations, employers are responsible for providing their workers with employment that is free from recognized hazards likely to cause serious physical harm or death. This standard set by the General Duty Clause includes any cold-weather-related dangers that your employees may face.

Car wash operators should train workers on the hazards of working in cold environments and implement safe practices to protect employees' health. Safety measures can include engineering controls and protective dress codes for severe winter weather.
Dressing correctly for the cold is vital to preventing cold stress. When freezing temperatures are unavoidable, operators should use OSHA's instructions for proper cold-weather wear to help protect car wash employees. Workers should wear three or more layers of loose-fitting clothing for better insulation:
An inner layer of clothing that keeps out moisture and retains more body heat. Consider wool, silk, polypropylene (synthetic) or thermal wear.
A middle layer of clothing that provides insulation, whether dry or wet. Consider wool or synthetic materials.
An outer layer of clothing that protects against wind and rain. Prevent overheating with materials that offer some ventilation.
Other protective wear can include insulated coats, jackets and gloves made to keep workers warm. Water-resistant articles will also be necessary for jobs at your car wash. Consider allowing employees to use face masks to cover their nose and mouth during severely cold weather. Alternatively, hats that cover the ears will help limit the amount of body heat that escapes from the head.
Finally, your workers should wear insulated and waterproof boots with suitable traction. The right footwear will protect the feet and reduce the risk of on-site slip-and-fall injuries.
Plan to Clear Ice and Snow
When winter weather strikes, priority number one for your car wash is clearing the sidewalks and parking lot. Create an effective snow removal plan to ensure your business can resume normal operations quickly.
Products with added antifreeze are crucial for winter operations. Keep snow removal supplies on-site, and inspect the condition of any equipment well before you need to use them. Use deicers to prevent slip-and-fall accidents and ensure site safety for the winter months. If you plan to use a snow removal service, call early and confirm your agreement. The last thing you want is to be caught unprepared after the first major snow or ice storm.
Prepping Your Car Wash for Spring
As you near the end of winter, you want to ensure the car wash systems have made it through in excellent condition. There will also be some precautions for winter that are no longer needed come springtime.
Common car wash care tips for spring include:
Inspect fittings throughout the entire car wash system for leaks: Hoses, guns and nozzles are especially vulnerable to cracks from cold temperatures and may require replacement.
Turn off your water heaters and floor heating units: You will save on electricity when spring arrives since you won't have to heat your car wash to prevent freezing in equipment and plumbing.
Switch out the chemicals used by your car wash equipment: While a salt-removing pre-soak works great for winter, you should replace these chemicals with bug-removing or pollen-eliminating alternatives.
Switch the foam brush chemical used by your air-injection foam brush systems: Swap out the winter foam brushes in all self-service bays for another product from JBS Industries.
Turn off anti-ice systems if you have them: Automatic car washes may include anti-ice systems to improve operations during winter, but these systems are futile in warm temperatures.
Choose JBS Industries for Winter Prep Car Wash Supplies

A car wash that is prepared for any season will keep your customers satisfied. This winter, choose top-performing cleaning solutions for your car wash business. Since 1979, JBS Industries has been a trusted car wash supplies manufacturer for automatic, touchless and self-service car washes.
From winter pre-soaks that remove harmful road salt and deicing treatments to our Winter Glow Foam®, designed for use in temperatures as low as 50° F below zero, JBS Industries is dedicated to providing high-quality car wash supplies for all seasons. Contact us today about our winter car wash products and how we can help you stay prepared all year.