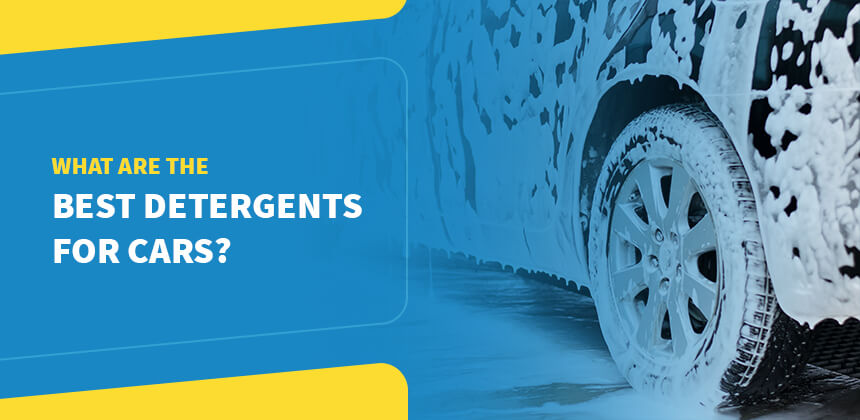 The Best Detergents for Car Washes
As a car wash owner, you're always looking to introduce the highest-quality car detergents to your business. With so many options on the market, each with its own unique characteristics and purposes, it can be challenging to find the right fit for your customers.
To make it easier for you, we've put together a list of the best detergents in nine different categories. Explore our list of the best car wash shampoos available right now to discover the perfect soaps for your car wash's needs.
Contact Us For Your Car Wash Supply Needs
What Makes Car Wash Soap Different?
Car shampoo brands formulate their products to be less abrasive than alternative types of soap, helping protect the car's paint. Car wash soap needs sufficient suds and lubrication to safely lift dirt and debris from a vehicle's surface.
Most car shampoos have pH-balanced solutions that help protect your car's body and prevent paint corrosion. Harsh soaps can strip a vehicle's protective wax and erode polish, leaving it looking dull.

What is the Best Car Wash Soap to Use?
Your best option will depend on your customers' cleaning goals and your own priorities. Here are a few factors to consider when picking out the right car wash soap to use on your vehicle:
Type: There are three types of car shampoo. General-use soap is ideal for weekly maintenance. Wash and wax shampoo helps upkeep a car's protective wax, while strip shampoo provides a fresh surface to let you apply a new coat of wax.
Lubricity: The soap's slipperiness is important for vehicles. Generally speaking, the higher the lubricity of the soap, the better for car wash applications.
Suds: It's important to consider foam when finding a good car wash soap. Suds grab and lift dirt from a car's paint, letting it wash away in the rinse cycle.
pH balance: Car paint is very sensitive to acidity. Choosing a pH-balanced soap helps lessen the amount of acidic residue on the vehicle after a wash.
Biodegradable: Consider choosing a biodegradable soap product to help reduce your car wash's environmental impact.
9 Best Detergents for Cars
What is the best car wash product? We've broken it down into nine categories so you can easily find the soap that best suits your car wash's specific needs.

1. Best Quality
JBS Industries Action detergent – (AT-100) is a powerful, highly-concentrated friction rollover car wash soap made with a special surfactant blend to enhance its features. It creates a strong foam with great lubricity for the best cleaning action.
This detergent is part of JBS Industries' Back to Action Ultra Concentrates series. It has a fresh, revitalizing summer scent and is great for both self-serve and friction applications.
2. Best Non-Freezing
Its ability to withstand temperatures of down to 50 below zero makes JBS Industries Winter Foam Brush – (DT-250) the perfect detergent for wintertime. Car wash visitors can use foaming brush systems without worrying about the soap freezing on contact.
Roadways can leave behind a lot of salt and grime in the colder months. This detergent produces a powerful foam that effectively lifts residue off the vehicle's surface and is ideal for self-serve applications.
3. Best Suds
With powerful pH-balanced cleaning capabilities, JBS Industries Thick and Foamy –  (DT-150) is especially good at generating suds, making it useful for both self-serve and friction applications.
Users can get more out of their rinse aids and hot waxes by utilizing this car wash soap. This soap is also biodegradable and phosphate-free, so you can feel good about using it.
4. Best Quick Drying
JBS Industries Final Curtain – (DT-160) is a low pH detergent that helps cars quickly dry after a wash by repelling the water. It is formulated for friction applications and leaves behind a glossy finish.
By producing maximum foam and lubricity, this detergent actively lifts dirt and grime from every crevice. Car wash customers will love the deep clean and shine this car soap creates.
5. Best Value
As a special alkaline detergent, JBS Industries Mako Terge – (DT-175) is a highly effective all-purpose cleaner. Its power and versatility give you a bigger bang for your buck.
This soap is ideal for prepping cars before they go through tunnel washes. The best applications for this detergent are through high-pressure tools such as guns and brushes.
6. Best Lubricity
JBS Industries Low pH Detergent HPC – (CPS – 101) has ultra lubricity, making it especially great for use with all friction machines. This detergent's low pH level lets it soften both film and soil, leaving behind an especially shiny surface.
Low-pH car wash soaps are ideal for vehicles with grime that contain a high mineral content. The acidic nature of this detergent is effective in tackling dirt- and dust-based soils better than products with a balanced or high pH.
7. Best Versatility
As a high-pH detergent and pre-soak, JBS Industries Fonic Wash pH Plus (PR-180) generates a powerful foam that clings to the vehicle's surface. It is a high-pressure car soap that is very versatile.
This option is ideal for multiple installations since it is a reclaim-friendly detergent that works with pressure washers. With so many different uses, it is a great go-to option for most car washes.
8. Best Concentrated Formula
JBS Industries Body Detergent HPC – [CPS-40] is highly concentrated with a pH-balanced formula. This product's high-quality surfactants do a great job of softening road film on a car's surface.
This soap leaves behind a beautiful shine after a wash, making it a great option for self-serve applications.
9. Best Colors
JBS Industries JB-55 Foam Brush Plus – (DT-230) is a powerful car detergent available in multiple bright colors. Each JB-55 product also has a fun scent, including:
Strawberry
Banana
Bubblegum
This series has a great amount of lubricity and generates generous foam for lifting dirt and grime off the surface of a vehicle. It's best suited for self-serve applications and its brilliant color and scent combination is sure to attract customers.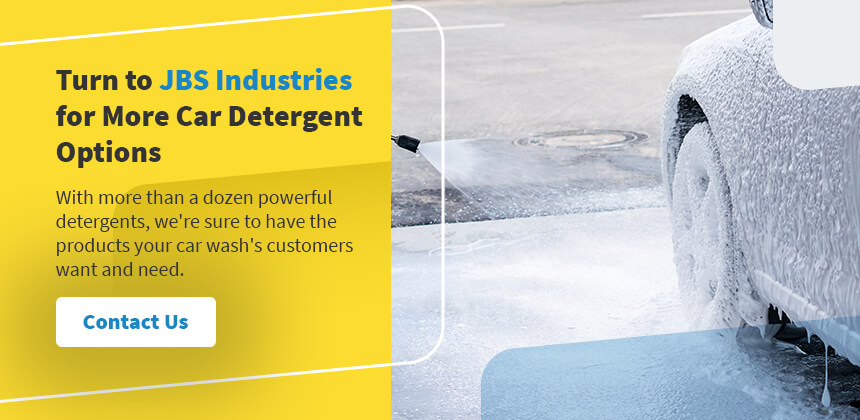 Turn to JBS Industries for More Car Detergent Options
JBS Industries is a leading car wash supplies manufacturer with over four decades of experience creating highly concentrated products. We believe in bringing innovation and quality to our car detergents so you can feel good about incorporating them into your business.
With more than a dozen powerful detergents, we're sure to have the products your car wash's customers want and need. Try our products to find premium car shampoos and so much more.
Interested in learning more about what JBS Industries has to offer? Contact us today!